THE HUMAN LEAGUE – DON'T YOU WANT ME
(PURPLE DISCO MACHINE REMIX)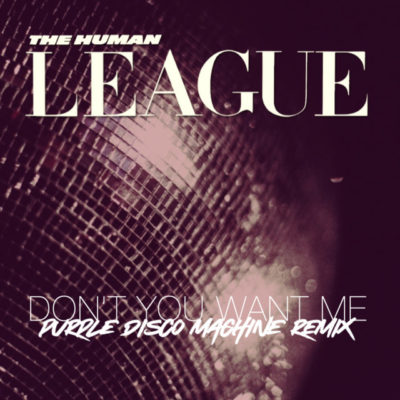 Wir kommen nicht darum herum auch diese Woche wieder über einen Hype Track vom aktuell angesagtesten Remixer Deutschlands zu berichten.
Purple Disco Machine hat die legendäre Human League-Single 'Don't You Want Me' geremixt, die heute auf Positiva erschienen ist.
Die englische Synthie-Pop-Band The Human League wurde 1977 in Sheffield gegründet, zunächst als experimentelle elektronische Band, bevor sie bei Virgin Records unterschrieben und einen großen kommerziellen Erfolg erzielten.
Der 1981 erschienene Song war die meistverkaufte Single des Jahres, ein Weihnachtshit und die fünft meistverkaufte Single des Jahrzehnts, die 1982 in den USA auf Platz 1 landete.
Einer der besten Remixer der Dance-Musik zauberte jetzt aus einem der wichtigsten Tracks der 80er Jahre ein umwerfendes Ergebnis.
Anlässlich des 40. Jahrestages der Erstveröffentlichung des Tracks sorgt PDM mit dem Remix von 'Don't You Want Me' für eine zusätzliche Dosis ansteckender Dancefloor-Energie und bleibt dabei dem Original treu.
Wir wünschen Dir Viel Spaß beim Hören 😉
40 frische, neue & aufregende Club Tracks, ausgewählt von den Redakteuren der DDC –
manchmal unter den Charts blubbernd, immer heiß!
40 fresh, new & exciting club tracks, selected by the editors of the DDC –
sometimes bubbling under the charts, always hot!
This week we can't avoid reporting on another hype track by Germany's hottest remixer at the moment.
Purple Disco Machine has remixed the legendary Human League single 'Don't You Want Me', which was released today on Positiva.
English synth-pop band The Human League was formed in Sheffield in 1977, initially as an experimental electronic band before signing to Virgin Records and achieving huge commercial success.
Released in 1981, it was the best-selling single of the year, a Christmas hit and the fifth best-selling single of the decade, reaching #1 in the US in 1982.
One of dance music's best remixers has now conjured up a stunning result from one of the most important tracks of the 80s.
To mark the 40th anniversary of the track's initial release, PDM's remix of 'Don't You Want Me' provides an extra dose of infectious dancefloor energy while staying true to the original.
We wish you much fun listening 😉