BOYS NOIZE FT. JAKE SHEARS – ALL I WANT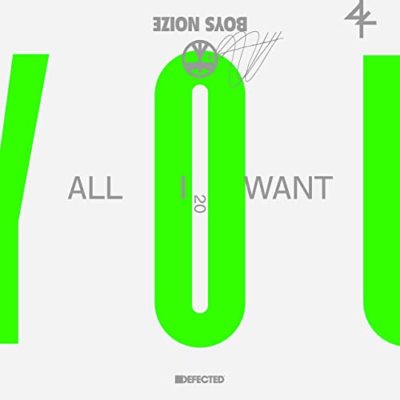 Nach dem Erfolg seines Label-Debüts 'Mvinline' kehrt Grammy Gewinner Alex Ridha alias Boys Noize mit der lang erwarteten Nachfolgesingle 'All I Want' zu Defected zurück – zusammen mit den unverwechselbaren Vocals von Scissor Sisters-Frontmann Jake Shears.
Inspiriert von klassischem Chicago-House ist dieser Track perfekt umgesetzt, da Boys Noize's Flair und Jake's unverwechselbare Stimme eine großartige Kombination bilden.
Die Single klingt wie eine Explosion aus der Vergangenheit, aber ähnlich wie frühe House-Platten wird 'All I Want' auch von modernen House-Heads umarmt werden.
Zur Entstehung des Titels sagt Alex folgendes:
"Ich war in NYC und arbeitete mit Jake Shears am Album der Scissor Sisters, als die ursprüngliche Idee für 'All I Want' aufkam. Wir machten ein sehr einfaches Demo und ich spielte auf seiner jährlichen Monkey Island Party bei ihm zu Hause. Es gab ein komplettes Soundsystem, eine Nebelmaschine und Laser in seinem Loft und der Ort war voll mit Jakes verrückten Freunden. Ich ließ das Demo, das wir an diesem Tag gemacht hatten, fallen und es ging ab! Genau in diesem Moment kam die Polizei und beendete die Party. Wir wussten damals, dass wir etwas Besonderes gemacht hatten, aber ich habe es nie geschafft, das Demo zu beenden, bis ich ein paar Jahre später die meisten Dateien von einer kaputten Festplatte wiederherstellen konnte."
Wir wünschen Euch viel Spaß beim hören
40 frische, neue & aufregende Club Tracks, ausgewählt von den Redakteuren der DDC –
manchmal unter den Charts blubbernd, immer heiß!
40 fresh, new & exciting club tracks, selected by the editors of the DDC –
sometimes bubbling under the charts, always hot!
Following the success of his label debut 'Mvinline', Grammy winner Alex Ridha aka Boys Noize returns to Defected with the long-awaited follow-up single 'All I Want', featuring the distinctive vocals of Scissor Sisters frontman Jake Shears. Inspired by classic Chicago house, this track is perfectly executed as Boys Noize's flair and Jake's distinctive voice make a great combination.
The single sounds like a blast from the past, but much like early house records, 'All I Want' will also be embraced by modern house heads.
On the genesis of the track, Alex says the following:
"I was in NYC working with Jake Shears on the Scissor Sisters album when the original idea for 'All I Want' came up. We did a very simple demo and I played at his annual Monkey Island party at his house. There was a full sound system, fog machine and lasers in his loft and the place was full of Jake's crazy friends. I dropped the demo we had made that day and it went off! Right at that moment the police came and broke up the party. We knew we'd done something special then, but I never managed to finish the demo until a few years later when I recovered most of the files from a broken hard drive."
We hope you enjoy listening