TOPIC x ROBIN SCHULZ x NICO SANTOS x PAUL VAN DYK –
IN YOUR ARMS (FOR AN ANGEL)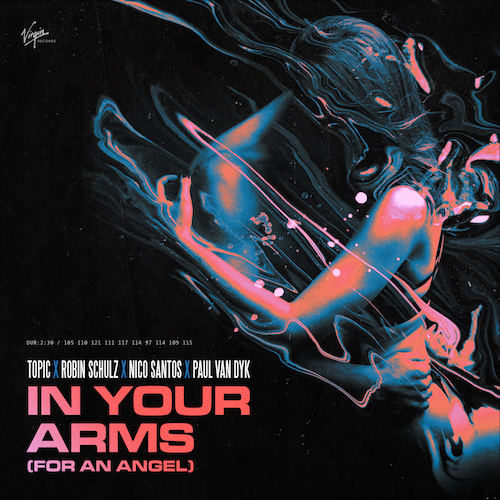 Topic, der 4-fach mit Platin gekrönte DJ & Produzent bringt für seinen neuesten Release Robin Schulz, Nico Santos und die absolute Trance-Legende Paul Van Dyk zusammen.
Paul van Dyk wurde in seiner bisherigen Karriere zweimal zum #1 DJ In The World gewählt und war für einen GRAMMY Award nominiert.
Es ist einer der Pioniere des Trance-Sounds. 'For An Angel' bescherte ihm den internationalen Durchbruch und gilt bis heute als einer der prägendsten Tracks des Genres.
Mit dem Track 'In Your Arms (For An Angel)' präsentieren sie eine neue Interpretation des Paul van Dyk-Klassikers 'For An Angel'.
Ihnen gelingt ein atmosphärisch aufgeladenes, mitreißendes Update des legendären Tracks, zu dem nun eine neue Generation von Fans und Publikum feiern und tanzen wird.
Wir wünschen Dir Viel Spaß beim Hören 😉
40 frische, neue & aufregende Club Tracks, ausgewählt von den Redakteuren der DDC –
manchmal unter den Charts blubbernd, immer heiß!
40 fresh, new & exciting club tracks, selected by the editors of the DDC –
sometimes bubbling under the charts, always hot!
Topic, the 4-time platinum crowned DJ & producer brings together Robin Schulz, Nico Santos and the absolute trance legend Paul Van Dyk for his latest release. Paul van Dyk has been voted #1 DJ In The World twice in his career to date and has been nominated for a GRAMMY Award. It is one of the pioneers of the trance sound. 'For An Angel' gave him his international breakthrough and is still considered one of the most defining tracks of the genre.
With the track 'In Your Arms (For An Angel)' they present a new interpretation of the Paul van Dyk classic 'For An Angel'.
They succeed in creating an atmospherically charged, rousing update of the legendary track, to which a new generation of fans and audiences will now celebrate and dance.
We wish you much fun listening 😉