SOFIA KOURTESIS – LA PERLA (TOURIST REMIX)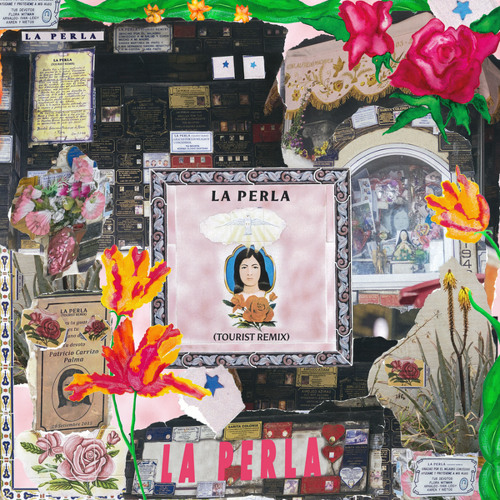 Die in Berlin lebende peruanische Künstlerin Sofia Kourtesis veröffentlicht einen Tourist-Remix ihres von der Kritik gefeierten und absolut ansteckenden "La Perla".
Über den Remix sagte Sofia: "Ich liebe Tourist! Seine Musik hat so viele Reisen für mich untermalt. Als ich über Remixe für La Perla nachdachte, stand er ganz oben auf meiner Liste. Wie jeder gute Remix hat Will den Song komplett auf den Kopf gestellt und etwas Einzigartiges und sehr Schönes geschaffen".
"La Perla ist einer meiner Lieblingssongs des letzten Jahres und Sofia ist derzeit eine meiner Lieblingskünstlerinnen – es war also eine große Ehre für sie, mich zu bitten, ihre Musik zu remixen", kommentiert Tourist.
Der Elektronikproduzent ist mit seiner Bewunderung für Sofias Arbeit nicht allein. Ihre atemberaubende EP "Fresia Magdalena", die die Leadsingle "La Perla" enthält, wurde Anfang März dieses Jahres veröffentlicht und war Sofias erste Veröffentlichung für Technicolour.
Die EP wurde sofort von The Guardian, Rolling Stone, Resident Advisor, NME, Clash und Pitchfork gelobt, die meinten, dass "Kourtesis einen ganz eigenen Sound hat: unermüdlich warm, durchdacht in der Form, der einen gewissen Konservatismus um des willkommenen Komforts willen riskiert".
Auch im Radio wurde das Album von Pete Tong, Jack Saunders, Annie Mac, Mary Anne Hobbs, Tom Ravenscroft, Jamz Supernova und Steve Lamacq gespielt, um nur einige zu nennen.
Nach ihrem Durchbruch mit der EP Sarita Colonia im Jahr 2020 – die vom Observer als "One To Watch" bezeichnet wurde und auf den Emerging Artist-Listen von DJ Mag und Mixmag zu finden ist – hat "Fresia Magdalena" ihren einzigartigen Sound mit klug ausgewählten Samples und einem fröhlichen Sinn für Persönlichkeit weiter verfeinert.
Sofia wird in den nächsten Monaten auf Tournee gehen und eine Reihe von hochkarätigen Terminen wahrnehmen, darunter Field Day, Lost Village, Warehouse Project x Four Tet und eine Headline-Show im Londoner Oval Space.
Sofia Kourtesis "La Perla (Tourist Remix)" ist jetzt auf Technicolour erschienen.
Wir wünschen Euch viel Spaß beim Hören
40 frische, neue & aufregende Club Tracks, ausgewählt von den Redakteuren der DCC –
manchmal unter den Charts blubbernd, immer heiß!
40 fresh, new & exciting club tracks, selected by the editors of the DCC –
sometimes bubbling under the charts, always hot!
Berlin based, Peruvian artist Sofia Kourtesis shares a Tourist remix of her critically acclaimed and utterly infectious 'La Perla'. Speaking of the remix Sofia said that "I love Tourist! His music has soundtracked so many journeys for me. When thinking about remixes for La Perla he was top of my list. Like any good remix, Will has completely flipped the song on its head and created something unique and very beautiful".
Tourist commented that "La Perla is one of my favourite tracks from the last year and Sofia is one of my favourite artists currently – so it was a real honour for her to ask me to remix her music".
The electronic producer is not alone with his admiration for Sofia's work. Her stunning EP "Fresia Magdalena", which features lead single 'La Perla', was released earlier this year in March, marking Sofia's first release for Technicolour. It immediately received widespread acclaim from the likes of The Guardian, Rolling Stone, Resident Advisor, NME, Clash and Pitchfork who said that "Kourtesis has a sound of her own: unfailingly warm, thoughtful in form, risking a certain conservatism for the sake of welcome comfort". It also received amazing radio support with plays from Pete Tong, Jack Saunders, Annie Mac, Mary Anne Hobbs, Tom Ravenscroft, Jamz Supernova and Steve Lamacq to name a few.
Following her breakout EP Sarita Colonia in 2020 – which saw her tipped as a ' One To Watch' by The Observer, feature on Emerging Artist lists from DJ Mag and Mixmag – "Fresia Magdalena" continued to hone her singular sound, using astutely selected samples and a joyful sense of personality.
Sofia is due to set out on tour over the next few months with a run of high profile dates including Field Day, Lost Village,Warehouse Project x Four Tet and a headline show at London's Oval Space.
Sofia Kourtesis 'La Perla (Tourist Remix)' is out now on Technicolour.
We wish you much fun listening