CLAUDE VONSTROKE – ALL MY PEOPLE IN THE HOUSE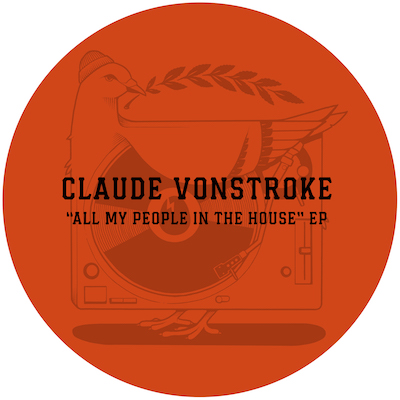 Der Februar ist Dirtybird Monat. Claude VonStroke und seine fröhliche Band von Musikern aus der Bay Area, auch bekannt als die Dirtybirds, feiern 15 magische Jahre im Dancefloor Business. Am 21. Februar erscheint sein neues Album mit dem 'Titel Freaks and Beaks'! Aber bevor das Album kommt, hat Claude VonStroke gerade seine 'All My People In The House' EP herausgebracht. Der Titel Track ist herrlich funky und voll mechnaischer Textur, mit einem sehr klassischen VonStroke-Groove und einem kleinen gesanglichen Rückruf zu Daft Punk's 'Teachers'.
40 frische, neue & aufregende Dance Tracks, ausgewählt von den Redakteuren der DDC Deutsche Dance Charts – manchmal unter den Charts blubbernd, immer heiß!
February is Dirtybird month. Claude VonStroke and his cheerful band of musicians from the Bay Area, also known as the Dirtybirds, celebrate 15 magical years in the dancefloor business. On February 21st his new album with the title 'Freaks and Beaks' will be released! But before the album comes, Claude VonStroke has just released his 'All My People In The House' EP. The title track is wonderfully funky and full of mechanical texture, with a very classic VonStroke groove and a little vocal recall to Daft Punk's 'Teachers'.
40 fresh, new & exciting dance tracks, selected by the editors of the DDC Deutsche Dance Charts – sometimes bubbling under the charts, always hot!